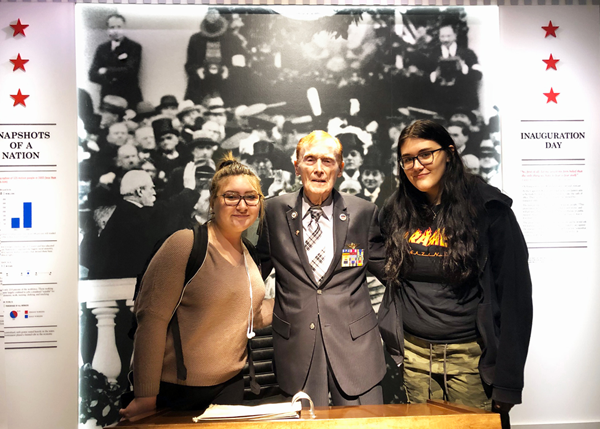 A Halloween storm ended up being the perfect storm for two students in search of a better understanding of history. 
Due to cancellations and delays, the students were able to hear firsthand accounts about World War II and the Holocaust from veterans and survivors who were visiting the FDR Presidential Library and Museum.  They were ready and willing to share their personal experiences with the students and their teacher.
The veterans and survivors were not scheduled to be at the museum, but went after speaking engagements were canceled due to flooding and downed trees, according to Dutchess BOCES teacher Sheri Tompkins.  The same conditions left Elyssa Niemiec and Kylie Decker as the only students from Tompkins' participation in government class able to attend the field trip on November 1.
"Speaking to these people made history seem more real than just reading it out of a book," said Niemiec.  "It is especially important to me because I had family who died in the Holocaust.  We've learned about these events in history classes, but it was more powerful to hear from the people who actually experienced it."
One veteran survived the attack on Pearl Harbor and another spoke about D-Day and showed the students a map to explain where he was supposed to be dropped that day.  He ended up in an entirely different area.
"The man who survived Pearl Harbor was dressed with items from his uniform and you could tell he was proud to be in that uniform," said Decker.
Tibor Spitz told the students how he survived the Holocaust. He ran from his town and hid from the Nazis.  He lived buried in snow for more than 200 days in Czechoslovakia.  When he emerged, all the people from his entire town were gone.
"This was a once in a lifetime experience for us," said Niemiec.  "At one point, we all had tears in our eyes when Tibor Spitz told us how he lost most of his family in the concentration camps. He was only a boy when he experienced this loss. His wife is also a survivor."
Spitz, an artist and scientist, first moved to Canada and later to the United States.  He was asked, "What was it like?"
He paused to compose himself and then told the students he could not explain what it was like, only his experience.
"But it is ok to ask questions," said Spitz.  "You can get over any obstacle in your way.  Don't be afraid."