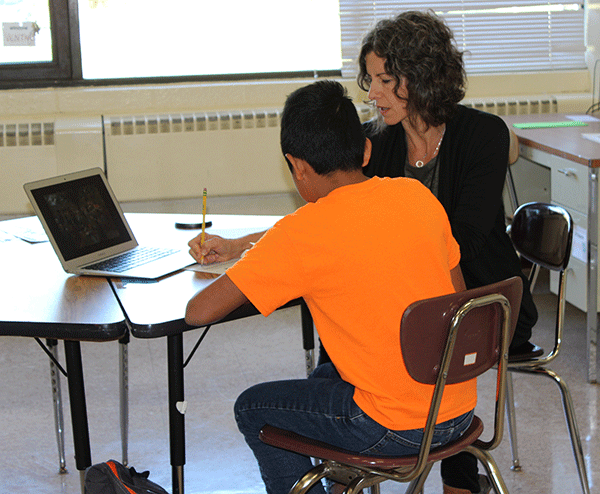 Students coming to area middle and high schools from other countries may have experienced inconsistent or interrupted formal education, which might hurt their school performance.
Imagine that you stopped going to school in fifth grade or earlier and were then thrust into a high school and expected to perform. How would you feel? Many students coming to area middle and high schools from other countries may not have had the consistent schooling we are accustomed to here in the United States.
The Dutchess BOCES Student with Inconsistent/Interrupted Formal Education (SIFE) program provides intense, small group instruction, individualized attention with an emphasis on English language and literacy skills to students who are learning English as a New Language (ENL).  To be eligible, students must have been in the country for less than a year and test at two or more years below grade level in literacy in their home language.
"We're finding that many SIFE, because of interruption time have missed some of the skills they would have gained and that affects their ability to learn," said Erin Piquet, principal of Alternative High School where the program is based.
The one-year, half-day program provides students with three credits, including Stand-Alone ENL, Integrated ENL/ELA, and Mixed Media Art, teacher Dillon Paul explained.  Because the program is only a half-day, it also helps students retain their identity and connection with their home district and friends.
The overall objectives of the program are to develop independence in reading, to express ideas in all language modalities using a variety of language tools, and to explore relevant and engaging themes, such as human nature, power and resources.  The program allows Paul to "meet students where they are" and is assets based, so that a student's personal or work experience can be brought to bear on the lessons being taught.
Because the classroom is self-contained, students build connections with other program participants that have similar life experiences. "There's a lot of value in creating a safe and positive learning environment that addresses not only to academics, but social and emotional challenges as well," said Paul.
An example of how the program works is how ELA work is done.
Paul showed a student a photo and asked him to fill out a "Who-Do-More Information" graphic organizer. The student is to write words in their native language and English to describe what they see and recognize in the photograph, and then to construct their own unique sentences using the chart.
"This allows them to build sentences on their own without getting lost in complicated grammatical terminology," said Paul. 
At the end of the year, students will take the statewide English proficiency test to determine class placement the following year.  Currently, there is a morning session but the goal is that by the end of the year, there will be a both a morning and afternoon session, Piquet said.
For more information, contact Erin Piquet at 845-486-4840 ext. 3047 or Denise Dzikowski, director of special and alternative programs at 845-486-8004 ext. 3222.