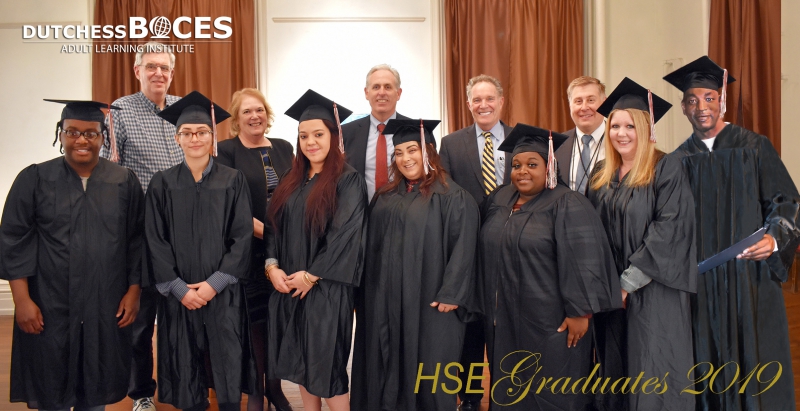 The Dutchess BOCES Adult Learning Institute was proud to celebrate the 2019 High School Equivalency graduates at a ceremony held at the Cunneen-Hackett Arts Center on October 24th.
Dutchess BOCES Board Member Rob Rubin, District Superintendent Dr. Richard Hooley, School Business Official Matt Metzger, and New York State Senator Sue Serino personally congratulated each student in attendance. Students also received several congratulatory certificates, including one from Dutchess County Executive Marcus Molinaro.
While nearly 40 adults earned diplomas during the past year, seven put on caps and gowns to walk in the graduation ceremony.  They were ready to be recognized.  Elizabeth Hayter, adult education administrator, said one set of proud parents told her that they had waited 40 years for their daughter to do this and they could not be more proud.
"When an adult agrees to attend our ceremony, puts on a cap and gown, they stand a bit taller, and they get a bit nervous," said Hayter.  "When the evening is over they are a bit transformed; you can see it in their eyes.  Our BOCES adult education teachers and staff are so happy to give them this opportunity."
Student speaker Danielle Papas, told the audience how she had to drop out of high school.  How life kept getting in the way of her goal, but finally she found the will to come to adult education classes.  She spent two years in class preparing for the Test Assessing High School Completion (TASC).  She took it several times, and finally passed to earn her New York State High School Equivalency Diploma.  Danielle is proudly looking forward her future opportunities.
Graduates gave family members, and in some cases teachers, roses to thank them for their help along the way, acknowledging that no one can really complete the journey without support.