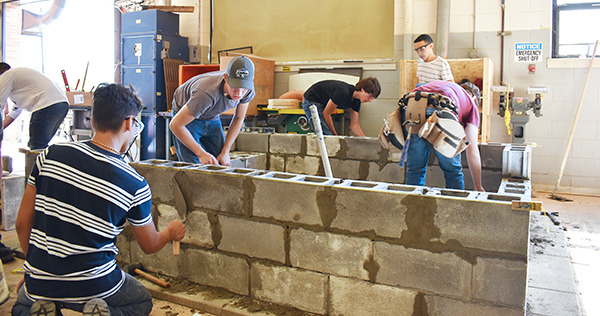 The Dutchess BOCES Career and Technical Institute is buzzing with activity.  Construction Trades students are building a foundation for a model home. The program takes students through building construction, finish carpentry, masonry, plumbing and basic electricity.
In an exciting collaboration between two programs, students in this program are also building a green screen for Video/Film Production students to use in the new studio being built on-site.
Nearby, Welding and Fabrication students have been busy repairing a table and making fixes to a dune buggy among other projects.
Having access to the Internet is must today and Computer Networking students are learning how to make that happen at CTI. The program gives students the technical knowledge they require to land an entry level job in the field of computer network installation and maintenance.
From learning how to properly attach connectors to Ethernet cables to actually running the cables for use in the computer lab, they are hard at work.
In Auto Mechanics, students are already under the hoods of vehicles brought in for diagnosis and repair. This program allows students to explore various aspects of the automotive field, including in the second year, electronics, on-board computers, OBD I & II, transmissions, drive line and clutches, and engine service.
If you take a walk down another hallway, Security and Law program students are learning handcuffing techniques. In the two-part program, students are introduced to basic concepts of security and public safety including homeland security, executive protection, disaster preparedness, theory and practical applications of law enforcement and criminal justice.
In another classroom, Cosmetology students are learning care of hair, nails and skin.  Students take turns at being "clients" for their classmates so skills can be practiced in a real world setting.
Visit our website throughout the year to learn about the many other offerings at CTI.