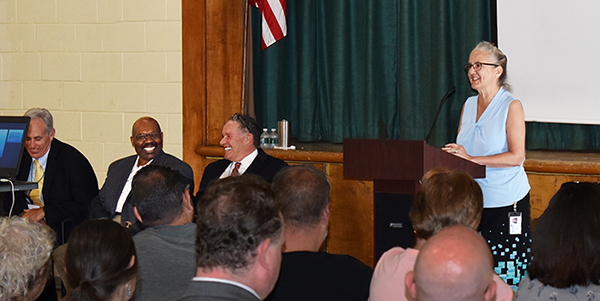 Edward L. McCormick has been Dutchess BOCES' Board President for 20 years and Tuesday he continued the tradition of personally welcoming all staff to the new school year.
Last week, he wished all new faculty the best for the 2019-20 school year during the New Teacher Orientation.
The stability of the Board of Trustees' leadership greatly benefits BOCES, said District Superintendent Dr. Richard Hooley.  He and the Cabinet members addressed about 700 faculty and staff during the Convocation at Salt Point Center on September 3rd, officially opening the new school year.  Dr. Hooley shared a presentation about the progress of the Capital Project, noting that a ground breaking ceremony will most likely be scheduled for Spring 2020.  The Superintendent will continue to meet with school boards throughout the county to update them on the capital project's status this fall.
The over-arching theme of the meeting emphasized the importance of thinking positively and remembering to take time to appreciate what makes one grateful each day. Deputy Superintendent Cora Stempel explained that these habits have proven to cultivate success and to encourage people to strive for the best each day.  She advised that taking care of oneself is a necessary step in order to be ready to support students' needs.
Dutchess BOCES begins the school year with 39 new faculty members who are ready to join their colleagues in supporting students on a wonderful journey of learning, growth, and discovery.