Meet Instructor Ringel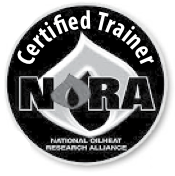 John Ringel has over 33 years experience in the oil heating industry working in the private sector and for the US Air Force. He has worked and conducted training in North Dakota, Texas, New York, New Jersey, Connecticut, Massachusetts and Pennsylvania.
Working his way through the industry, he began as a mechanic's helper to a service technician, a system designer, and then service manager and is currently working as an operations manager overseeing operations for 3 local fuel dealers. Technically, he specializes in system troubleshooting, combustion theory and operations as well as controls and wiring.
He has been conducting industry training for over 20 years with a combination of classroom and hands on training seminars. He is a NORA and Certified Employee Training Program (CTEP) instructor and proctor with multiple licenses and certifications.