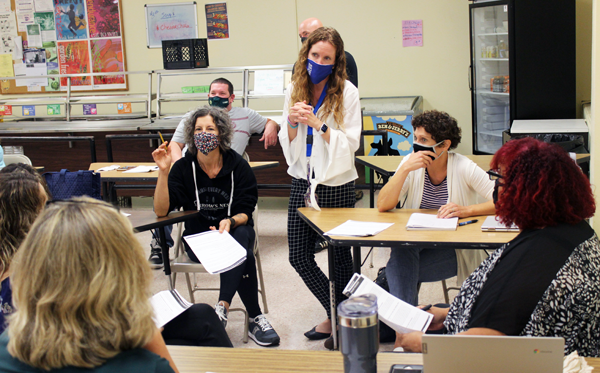 Dutchess BOCES kicked off the new school year September 3, spread out between four buildings and employee homes. The annual Convocation, usually a large gathering of all employees in the Salt Point gym, was redesigned to practice social distancing.
Everyone filled out the Daily COVID Questionnaire, a form used to ensure only healthy people enter the BOCES buildings.
Board of Trustees President Edward L. McCormick and Board Member Robert Rubin attended to help welcome employees to the new school year.
BOCES District Superintendent Dr. Richard Hooley, Deputy Superintendent Cora Stempel, Executive Director for Human Resources Norah Merritt, and School Business Official Matt Metzger spoke of the planning that took place to ensure a safe reopening of school.
More than ever, employees will have to depend upon each other to get the job done, Hooley said.
At desks, with Dutchess BOCES facemasks on them, staff at the Salt Point Center took notes during the various presentations
McCormick thanked all staff for doing a good job amid the pandemic and offered some words of encouragement.
"It's not easy, but we know you'll succeed," McCormick said. He said he was confident staff would respond to sudden, rapid change with flexibility and creativity.
After the health and safety livestream presentation, facilitators in the various viewing rooms spoke briefly before opening the floor to questions.  Details about the Google classroom platform and instructional expectations were also shared during the day.
Usually, a small amount of new information is shared at the first Superintendent's Conference Day and teachers know what to expect. This year, everything is new and it will take some time to adjust, Special Education Teacher Samuel Rivera said.
"I feel like a brand new teacher all over again," Rivera said. "I'm just going with the flow."
Teaching Assistant Diedre Spacone was impressed by how well the sessions were organized and the respect shown by everyone, she said, adding all staff will have to depend on each other to get through the year.
"We want the best for our students and that reflects on everybody's enthusiasm about being back," Spacone said. "I think everybody is just really ready to get back and they're excited to see the students."
Friday, staff who participated remotely on Thursday will come in to the buildings for more professional development and the other half will work remotely.  The following week, professional development activities will continue and new student orientation will be planned.  Faculty meetings, establishing Google classrooms and additional professional training for remote teaching will round out the week. 
In-person and virtual classes will start Monday, September 14, with half the students attending Monday and Tuesday and the other half attending Thursday and Friday.  Remote learning will take place on the days students are not in school.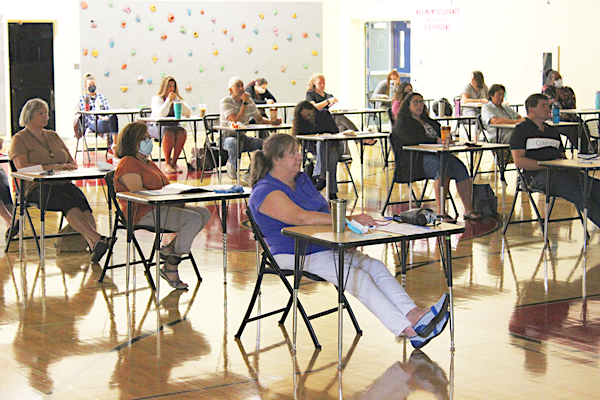 BOCES employees kicked of the new school year watching the livestreamed Convocation at ALI, CTI, SPC, the Alternative High School, and from their homes.