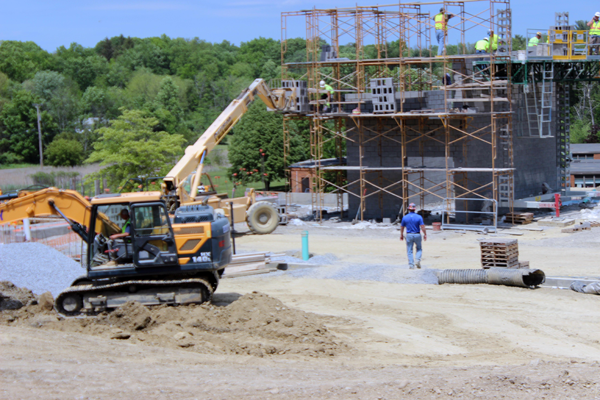 Tons of structural steel, which will frame the new Alternative High School, was recently delivered to the construction site at the Salt Point campus. With construction crews hard at work on the $36.8 million Dutchess BOCES capital project, both at early and late hours, progress is easily noticeable.
Foundation work, masonry projects, and the installation of underground storm water piping is well underway. One of the project's features will be a new gymnasium filled with 12-inch walls made of concrete masonry units and insulation. 
All trees and stumps were removed on part of the site adjacent to the CTI parking lot to make room for a silt fence. This prevents dirt from getting into the woods and wetlands, Brokosch said.
"They're going to be pushing off all the top soil," Brokosch said.
On May 4, crews were digging to install a force main, a pipeline that transports wastewater under pressure from the discharge side of a pump to a discharge point.
Masons arrived earlier this month to install footings, part of the foundation, and steel decking and trusses have now arrived, Brokosch said, adding the project is moving smoothly after the winter down time.
"We're pushing the new site contractor in the direction we need them to go to keep bringing other contactors back," Brokosch said.
Site work began in June 2020 and the project will enable the Salt Point Center, Alternative High School, and Career and Technical Institute to be located on one campus.
Amity Construction Corp. was selected to complete emergency work this spring after Casa Builders were removed from the project. They later were hired to complete the remaining excavation work. BOCES has already received a $1.8 million payment from Casa's surety company to offset costs related to the company's inability to complete the job.