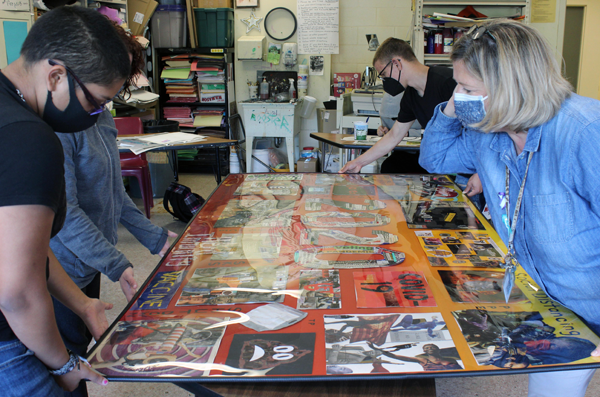 During the latter part of 2020, BOCES Art Teacher Caroline Van Wagner asked students to think about what stood out during the year and how it affected them. Some students shared personal stories. Some chose more broad, public stories.
The students then decided that the best way to represent their interpretations of 2020 was in a collage format. The collages used pictures, drawings, articles and words. They were all added to a large mural board to create a unified, reflective composition of 2020.
"Everybody's response was different – some focused on the protests, some focused on mental health," Van Wagner said. "It's a little touch on what the kids took from 2020."
Some of the events documented included the pandemic, the mental health crisis, the protests, Black Lives Matter, basketball legend Kobe Bryant's death and the wildfires that devastated Australia with "2020" in the center. Numerous buzzwords from the year, such as "New Normal," and "Cancel Culture," were pasted on the numbers.
As soon as Van Wagner announced the idea, one of her students wanted to make a collage tribute to the late Dutchess BOCES nurse, Lisa Spinelli. Her pictures are accompanied by the title "Essential Workers."
"Lisa was an important part of many of our students' and staff's lives," Van Wagner said. "Her loss was really tremendous."
Van Wagner is proud of her students' efforts and said people should examine all elements of the mural when they see it.
"You have to look at all the words," she said. "This is not something you can just walk by and say, 'That's really pretty.' It must be read and felt emotionally. The wide array of visual statements and photos shows the impact that the year had on all of us. It is my hope that the mural collage composition commemorates our 2020, even though it may have been the most difficult year that everyone wants to forget. It will hang in the halls of BOCES for years to come."