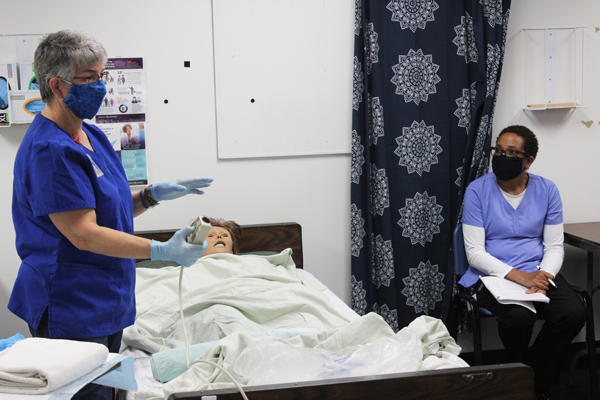 After patiently waiting for months, nine students headed back to classes in late July as part of the Nursing Assistant program at the Dutchess BOCES Adult Learning Institute. The course, like many events, was put on hold due to the COVID-19 pandemic.
Students were in class Mondays, Wednesdays and Thursdays for the first few weeks, before moving to a four days per week, Adult Learning Institute Administrator Elizabeth Hayter said. Normally, a day and night class are offered, but only the day portion is occurring.
These students are scheduled to begin clinical work on September 21, testing for certification in October and they will then be ready to work, Hayter said.  Nursing facilities have an employee shortage, she added.
 "I would say it is very much in demand," Hayter said. "Without training for a new workforce in this area it will be very difficult for facilities to operate due to staff if another shut down occurs."
During a recent morning class, students learned about catheterization from instructor Susan DeMan. She is thrilled to back in person because hands-on training is a crucial New York State mandate.
"You really can't do distance learning for this," she said. "You can illustrate a skill, you can do a skill video as a backup, but they need to be here to do hands-on."
Classroom procedures haven't drastically changed, but beds were spaced apart and everyone wears masks. Additionally, DeMan reviews a video from the Centers for Disease Control about putting on and taking off personal protective equipment after caring for a patient with COVID.
"In a nursing home you might have COVID and there might be a certain floor that's dedicated to that," DeMan said. "I just want them to be aware of how you do it and how you make sure you're not transmitting any virus to anybody else."
Students, who were donning green and blue medical uniforms in DeMan's class, have a clear passion and dedication to the profession.
Despite her concerns about COVID, Paula Boyles was excited to start class.  "I just want to be able to get out there and start helping," she said. "I was really excited when I got a call that we were going back to school."
While Sean Clark is nervous about how working in nursing homes would be following the pandemic, he understands medical professionals must be ready for any scenario, he said.
"If you're someone that wants to get into healthcare, it felt like you have to be prepared for a situation like this," he said.
The next course starts October 13 and ends the first week of December, Hayter said. The course is already full and there is a waiting list of potential students who will not be enrolled until 2021.