The Corona virus/COVID-19 pandemic has challenged all of us to change how we work.  For three Dutchess BOCES Nurse Instructors, it has meant adding a second job to help our communities.
Health Occupations Instructor Christine MacNeil is teaching Dutchess BOCES juniors about the urinary system and will follow that with a lesson about the endocrine system as part of her "Introduction to Health Occupations" class. Students have been tasked with creating a college poster and doing their weekly medical math lesson.
With the COVID 19 onslaught, MacNeil isn't just teaching students and reviewing their work.  She has also been pressed into duty in her field of nursing, working as part of the Dutchess County Medical Reserve Corp., supporting the county's Emergency Response and Behavioral Health departments in their efforts. She has been visiting homes where there is a suspected case of COVID-19 in full personal protective gear to take swab samples for lab evaluation.
It's not unusual for her to return to the lab and check in with her students. "They have been kind enough to let me use their computer in their offices to keep up with my class while I am working with them," she said.
MacNeil isn't the only BOCES nursing program instructor who is teaching and working outside the classroom now. About a third of the school's faculty is doing so, said Susan Moraca, Coordinator of Health Occupations for the Dutchess BOCES School of Practical Nursing at the Career and Technical Institute.
Joanne Williams is a staff specialist at the school and is working for a local staffing agency which assigned her to a long term care/rehabilitation facility. Karen Novak, teaching assistant in the Practical Nursing Program is working at Mid-Hudson Regional Hospital.
"During these perilous times, I reflect on the teachings of all those instructors who are currently and have previously served to usher in new and talented nurses," said Williams, who also a CTI nursing school alumnus. 
In addition to continuing lessons, Williams said, "administrators have made themselves available to our instructors and students day and/or night for advice or just as an ear to listen."
Her current assignment outside BOCES is as a weekend nurse supervisor at a 120-bed skilled nursing facility - offering assistance to the nurses, CNAs and housekeeping team there.
"These healthcare professionals are our frontline and are feeling the strain and fear of COVID 19," she said.  "I cannot sit on the sidelines while our fellow members are out there giving 100%. As we say in CPR training, 'doing something is better than doing nothing.' "
Check out the Poughkeepsie Journal article featuring Christine MacNeil.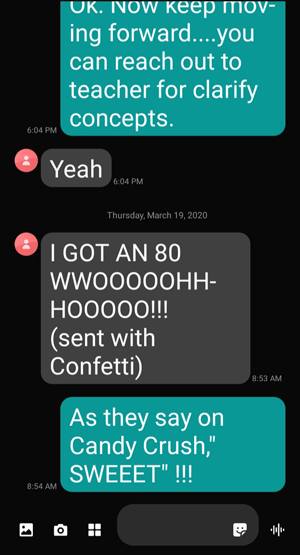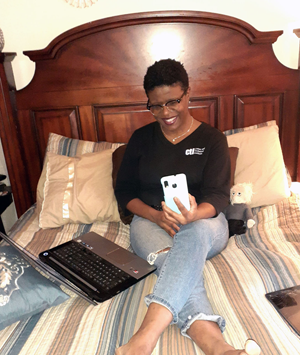 Jo Anne Williams, staff specialist with Dutchess BOCES School of Practical Nursing, works from home during the COVID 19 crisis, reading the above text from a student.