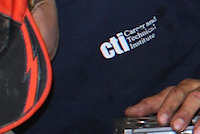 More than 300 people attended the CTI Expo & Community Open House held at the Dutchess BOCES Career and Technical Institute on April 1st. Visitors saw firsthand the extensive career and technical training available to Dutchess County high school students and also learned about other BOCES programs.
"It was an exciting and educational day," said CTI Principal Mitchell Shron. "We really reached out to the community and had a lot of kids coming through the building. Every wing, every room, had activities to highlight our programs. All of our BOCES divisions were also able to set up and share information about the various programs and services we offer. It was a great day."
More than 100 current CTI students volunteered their time to demonstrate and showcase classwork in various fields including culinary arts, cosmetology, health care, automotive technology, and graphic design. Attendees, including superintendents and board of education members from across the county, were able to appreciate the career skills students are perfecting at CTI, including sampling delicious cold salads featured in the kitchen.
The Expo also featured a Middle School Skills Competition, pitting seven teams against each other to prove which group of 6th, 7th and 8th graders had the most skill in a series of challenges in each career and technical education area. Dover Middle School prevailed with Todd Middle School placing second and Millbrook Middle School placing third.
For more information about Dutchess BOCES Career and Technical Institute, please visit www.dcboces.org/cti.