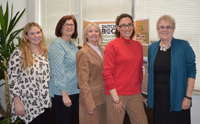 The Dutchess BOCES Education Foundation presented more than $1,300 in teacher mini-grants on April 5th at a reception held in the BOCES Café at the Career and Technical Institute (CTI).  The grants, awarded to four teachers, were the first ever presented by the Foundation which formed in 2015 to support innovative education.
"We are so pleased our awardees, all very dedicated teachers, are able to be with us today to celebrate their innovative ideas," said Foundation President June Markle.  "They really customized their requests to serve a unique purpose for their students.  We applaud how they took the initiative to augment their programs."
CTI culinary arts students, under the direction of Chef Darcy Sala, provided a variety of delicious bites to make the reception extra special.
Grants were awarded to two Dutchess BOCES teachers who work in district-based special education classes and two who work at the BOCES Alternative High School. 
Christine Fiztgerald was awarded funds for a custom cubby cabinet to help her class at Union Vale Middle School with organizational skills.  Maureen Moloney was awarded funds for baking equipment and supplies for her students to develop life skills while preparing for an Autism Awareness fundraiser at Arlington High School.
For the Alternative High School, Susannah Renzi was presented with a grant to support a field trip to the Poughkeepsie Farm Project and farm to table education and Kathy White was awarded a grant for a robot kit to promote STEM skills, including coding.
The Foundation will hold its next fundraiser Thursday, June 15th at Chicago Uno Grill in Poughkeepsie.  When diners present a coupon, a percentage of their check will be donated to the Foundation to help fund future teacher mini grants.  For more information, email dutchess.foundation@dcboces.org.
Top Photo: Christine Fitzgerald, Maureen Moloney, Kathy White, Susannah Renzi, June Markel
Bottom Photos:
Photo One: Maureen Moloney, Christine Fitzgerald, Kenneth Louis-Jeune
Photo Two: Susannah Renzi, Kathy White, John Jeffrey, Sherre Wesley
Photo Three: June Markel, Richard Hooley