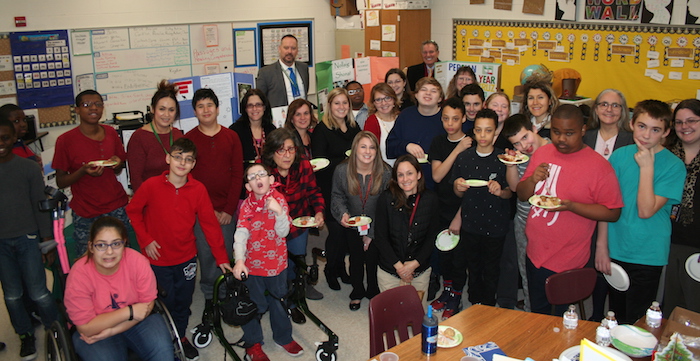 Dutchess BOCES teachers hosted "Holidays Around the World" for their three classes at Union Vale Middle School on Wednesday, December 21st.  The goal was to introduce students to different cultures and countries by examining how people celebrate the holidays around the globe.
Students made posters, prepared food, and created PowerPoint presentations that went along with their families' culture or country, said teacher Christine Fitzgerald. "It was a wonderful day, and everyone really enjoyed themselves," she said. "I'm so proud of my students for not only doing all the hard work, but being able to stay for the whole party without getting overwhelmed."  Students from Mrs. Haight's, and Ms. Hastings' classes also participated.
 
Parents, Dutchess BOCES Superintendent Dr. Richard Hooley, Deputy Superintendent Cora Stempel, Director of Educational Programs Bill Ball, and Staff Specialist Victoria Saffioti attended and were impressed by the students' efforts.