Alternative High School Student Newsletter

The Betta Fish was chosen as our mascot along with the slogan "Join the School". The BETA fish not only shares the name of our school but also a number of characteristics in common with the students of BETA. Betta fish are unique and beautiful like the students at BETA. Betta fish are also known as "fighting fish". The students at BETA are fighting for their education. Betta fish, like other fish, travel in schools and require a nuturing environment to thrive, not unlike our students at BETA.
Alternative High School Field Day 2016

Celebrating Earth Week at the Alternative High School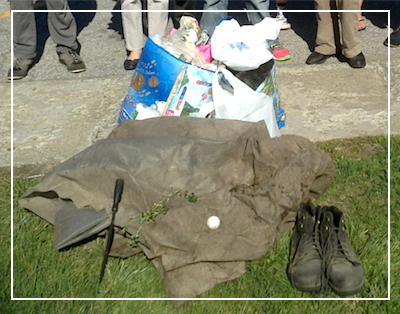 The Alternative High School's Green Team, a school club dedicated to environmental issues, celebrated Earth Week at the school this week.  Their activities included providing tips for conserving electricity and water on the morning announcements and a clean-up of the school grounds.  Green Team members went into the school yard and filled up four bags (reusing cat and dog food bags) of trash.  Students also found toys like a wand, clothing including the boots pictured, and a golf ball.  Additionally, they found many plastic and glass bottles that were brought to be recycled.  During the year, the Green Team collects items to recycle in the school, such as batteries, cell phones, printer ink and bottles.  Funds raised by the club through these collections help support graduation activities.
Click on the page below to read the November 2016 edition of BETA BAYOU.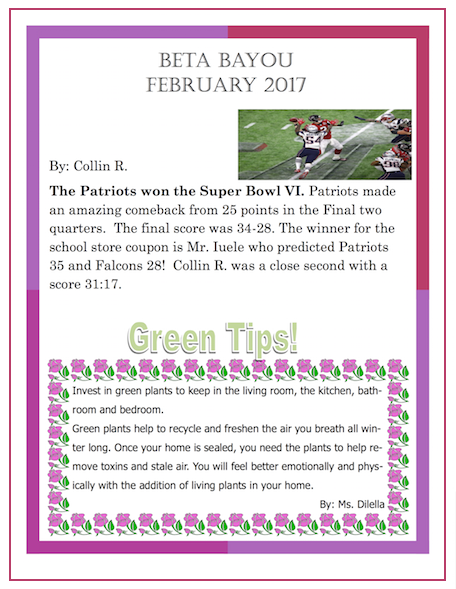 BETA Bayou November 2016 [PDF: Adobe Acrobat Reader Format]
BETA Bayou Halloween Edition 2016 [PDF: Adobe Acrobat Reader Format]
BETA Bayou Spring 2016 [PDF: Adobe Acrobat Reader Format]
BETA Bayou February 2016 [PDF: Adobe Acrobat Reader format]
BETA Bayou December 2015 [PDF: Adobe Acrobat Reader format]
BETA Bayou November 2015 [PDF: Adobe Acrobat Reader format]
BETA Bayou October 2015 [PDF: Adobe Acrobat Reader format]
BETA Bayou March 2015 [PDF: Adobe Acrobat Reader format]
BETA Bayou June 2015 [PDF: Adobe Acrobat Reader format]